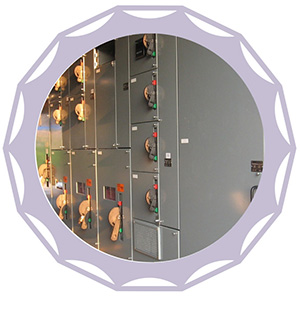 Black Rock provides detail design and commissioning for electrical power distribution for plants and mines. From 24V to 13,800V, on surface or underground, we can engineer a safe and reliable system for you.
Power Distribution
We design power systems and specify equipment, including:
Transformers, switchgear and MCC's
VFDs and soft starts
Motor power and controls—low voltage through 4160V
Lighting/distribution panels
Power factor correction
Power and energy management
Monitoring and metering
Cable sizing, including specialty cables
Backup systems—UPSs and generators
Power conditioning
Electrical houses
Portable VFD skids for underground ventilation fans
Arc Flash and Coordination Studies
Black Rock can complete arc flash and/or coordination studies on new or existing systems. This can include modeling the system, as well as providing and installing stickers.
Power Generation
We design power systems and specify equipment, including:
Steam and gas turbines (up to 300 MW)
Water turbine (up to 750 MW—Itaipu turbines)
Wind turbine (up to 5 MW)
Cogeneration turbines (up to 100 MW)
Water gates and storage tanks
Cooling and lubrication systems
Pressure vessels and boilers.
Capital and operating cost estimates
Lifting and transportation systems for maintenance
Design and selection of power transmission equipment such as: shafts, gearboxes, brakes, clutches, anti-friction bearings, hydrodynamic bearings, couplings, backstop, speed variator and transmissions