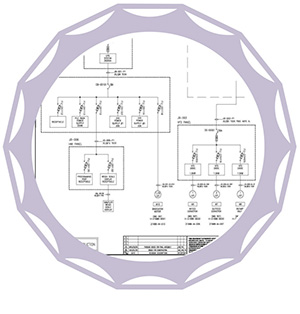 At Black Rock, we understand that sometimes even well-intentioned plants end up in a situation where their documentation has fallen behind or may not exist. We can: do the research, review existing records, investigate field conditions, and then update or create the documents that you need.
Functional Specifications
If you have a system that has been operating for months or years, but lack a comprehensive manual. We can:
Collect existing information on the system—drawings, PLC and HMI programs, manuals, interviews
Develop a preliminary functional description for discussion
Review the preliminary document and modify either the document, the system, or both to meet the desired functionality.
Plant or Equipment Drawings
If drawings are missing or outdated, our engineers and designers can
Compare existing drawings against field installation
Update drawings to match. This may include equipment drawings, piping drawings, electrical and controls drawings.
We can identify any issues such as code violations.
Network Drawings
Sometimes plant control networks develop organically or different groups have maintained their own records. We can make sense of it.
Collect data from various sources—drawings, sketches, notes
Walk the system to identify revised/removed/added components
Create or update system drawing—block diagrams, schematics, wiring
Identify any major issues with the system—crimped fibres, etc.
Formats
We can provide documents and drawings in whatever formats you prefer. These may include:
PDF
Hard-copy binders or books
Microsoft Word
AutoCAD or MicroStation